Indicateur Air et Santé 3 ans (2019-2021)
Indicateurs communaux permettant de faire le lien entre la qualité de l'air et les impacts sanitaires. Indicateurs calculés sur 3 ans à partir des données de moyenne annuelle de dioxyde d'azote (NO2) et de particules fines (PM2.5) modélisées fine échelle.
Simple
Date (Creation)

2022-05-24T17:46:00
Identifier

FR-534194451-ATMOAURA_INDAIRSANTE_2022
Presentation form

Digital map
Point of contact

| Organisation name | Individual name | Electronic mail address | Role |
| --- | --- | --- | --- |
| Atmo Auvergne-Rhône-Alpes | | data@atmo-aura.fr | Point of contact |
Theme

modèle atmosphérique

polluant atmosphérique

circulation atmosphérique

concentration de polluant

air

pollution

qualité de l'air

dioxyde d'azote

données ouvertes

open data
GEMET - INSPIRE themes, version 1.0

Conditions atmosphériques
Use limitation

Utilisation libre sous réserve de mentionner la source (a minima le nom du producteur) et la date de sa dernière mise à jour
Other constraints

Pas de restriction d'accès public selon INSPIRE - Licence ODbL - Mentions: "Source Atmo Auvergne - Rhône-Alpes "
Distance

10  m
Denominator

1000
Metadata language

fre
Character set

UTF8
Topic category
Description

Auvergne-Rhône-Alpes
Reference system identifier

EPSG

/

RGF93 / Lambert-93 (EPSG:2154)

/

7.9
Distribution format
OnLine resource
Hierarchy level

Dataset
Conformance result
Date (Publication)

2022-05-24T17:46:00
Explanation

Non évalué
Pass

No
Statement

Données issues d'une chaine de modélisation combinant les résultats de modèles à l'échelle de la région (1km) et ceux à l'échelle de la rue (10m) pour les dioxydes d'azotes (Combine 2019).

La plateforme à l'échelle régionale intègre le modèle météorologique WRF (National Center for Atmospheric Research) et le modèle de chimie transport CHIMERE développé par l'IPSL (Institut Pierre Simon Laplace), en collaboration avec l'INERIS. A cette échelle spatio-temporelle, l'évolution des polluants atmosphériques dans la masse d'air est calculée à partir de nombreux processus physiques et réactions chimiques . Un traitement géostatistique se basant sur les mesures des sites fixes du réseau Atmo Auvergne-Rhône-Alpes est alors appliqué en fin de calcul pour créer la carte régionale. Dans un second temps, le modèle de dispersion à fine échelle SIRANE est mis en œuvre pour les principales agglomérations et à proximité des routes principales de la région pour les dioxydes d'azotes. La cartographie des polluants à fine échelle est alors calculée en combinant ces résultats avec la cartographie à l'échelle régionale.
File identifier

b5d5152f-9b94-4cbb-bd52-51ea1571e9da

XML
Metadata language

fre
Character set

UTF8
Hierarchy level

Dataset
Date stamp

2022-06-01T17:45:31
Metadata standard name

ISO 19115:2003/19139
Metadata standard version

1.0
Metadata author

| Organisation name | Individual name | Electronic mail address | Role |
| --- | --- | --- | --- |
| Atmo Auvergne-Rhône-Alpes | | data@atmo-aura.fr | Point of contact |
Overviews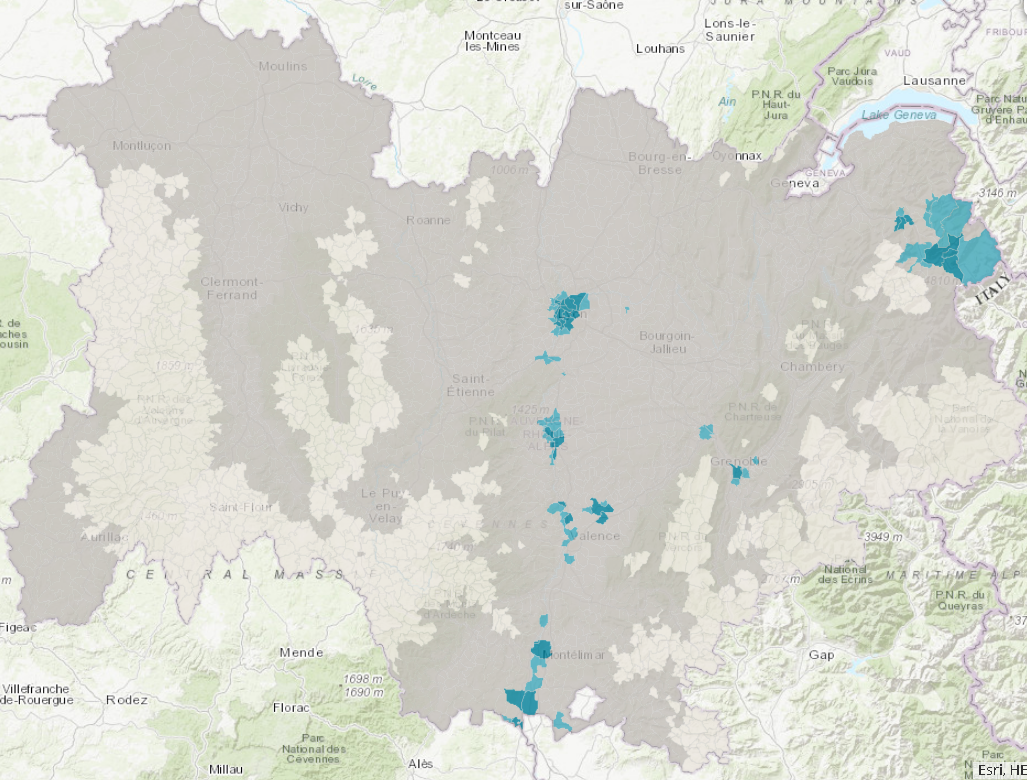 Spatial extent
Provided by

Associated resources
Not available